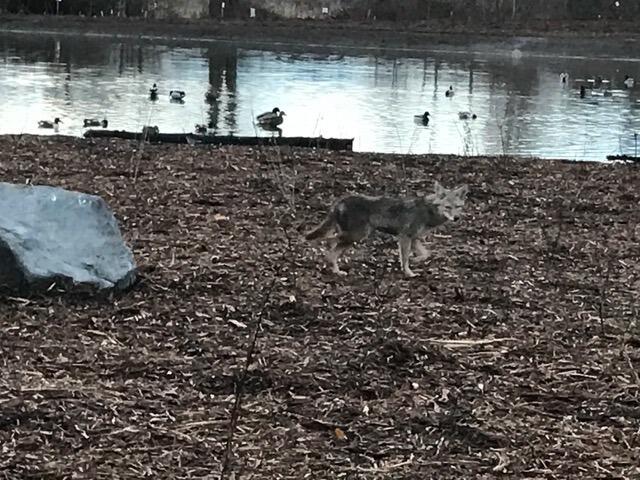 coyote at Union bay Natural Area
The Laurelhurst Blog has received several reports and a picture of coyotes around the neighborhood.
One resident said he saw a coyote when walking his dog early in the morning at the
intersection of NE 41st Street and the Boulevard (43rd Avenue NE). The coyote was reported to be about the size of a dog weighing about 50 pounds and ran away when he saw the dog. The neighbor commented that he has seen several coyotes at the Union Bay Natural area but never one so close.
Another neighbor reported several cats that died around 55th Avenue NE, most likely due to coyotes.
Another coyote was spotted in Laurelhurst Park about midnight. recently
Neighbors commented that coyotes don't usually go after people but they can go after dogs and small children. And the Department of Agriculture reports th
at the diet of urban coyotes primary diet includes small dogs, cats and rats.
In March, multiple sightings of coyotes were reported at the Union Bay Natural area.
And in June of last year,

a pack of coyotes was shot

by the USDA APHIS wildlife services, supposedly initiated by a call from Talaris management who told a neighbor:
The Talaris team was informed that the Department of Agriculture received multiple inquiries from the surrounding community regarding the increasingly aggressive nature of the coyotes living in the area. Wildlife specialists visited the neighborhood on multiple occasions to assess the safety of residents, Talaris guests, and the coyotes
Jeanine Neskey, USDA:APHIS - Wildlife Services, commented at the time:

Wildlife services received a request to assist in the management of several coyotes near the Laurelhurst neighborhood in Seattle. The coyotes had become increasingly aggressive toward people and pets in the area. Operations were conducted for three nights and included the use of a call box, a device which mimics animal distress sounds and attracts coyotes. Three coyotes were lethally removed. One coyote ran into heavy brambles on an adjacent property making it difficult to retrieve the body, and was removed first thing the following morning. It is believed there are no remaining coyotes on the property at this time.
Here
is the King5 story regarding the incident titled "Neighbors divided over 3 coyotes killed in Laurelhurst."
For quite some time, residents mostly living and using the trails

near the Center for Urban Horticulture (3501 NE 41st Street) have regularly r

eport coyote sightings, especially, during

the spring of last year.
Here is a recent post from the

Union Bay Watch

Blog published by
Larry Hubbell
, long-time photographer and birder about coyotes at Union Bay.
Here
is information the Laurelhurst Blog has posted about living with urban coyotes