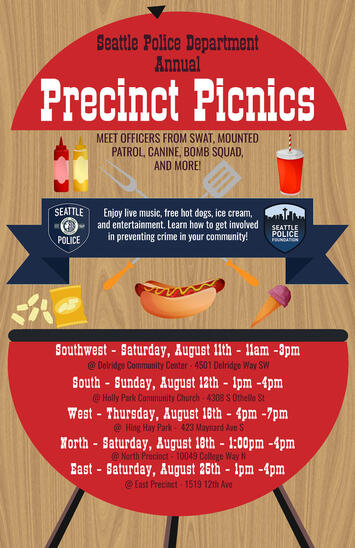 The Seattle Police North Precinct Picnic will be held tomorrow at the North Precinct 10049 College Way North from 1-4 pm, which serves Laurelhurst and other northeast neighborhoods.

The even is sponsored by SPD and the Seattle Police Foundation and is an opportunity to meet officers from the precinct, the SWAT team, and the Arson Bomb Squad (ABS). Also at the picnic will be the the Mobile Precinct, and SWAT and ABS vehicles and equipment.

Hot dogs, chips, ice cream, water and soda will be available.

The annual picnics held at precincts throughout Seattle is a project designed to facilitate positive community and police interactions across the city.

"Picnics in the Precincts provide an opportunity for each precinct's surrounding neighborhoods to come together and enjoy an afternoon of celebration with the officers that protect their families and businesses," the information says.