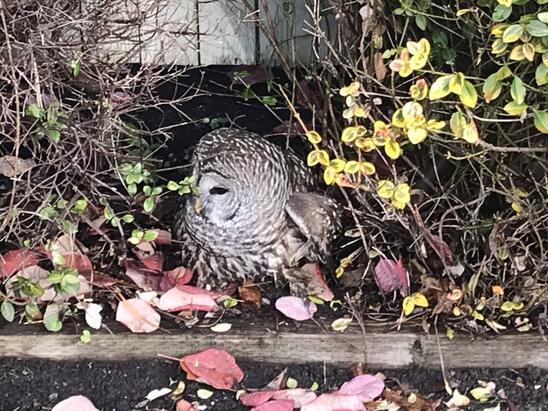 Neighbors reported to the Blog that a Barred Owl with an injured wing was found at Talaris last week. The neighbor took it to PAWS and it was reported that if the owl survives, it will be released.
A neighbor, living near Talaris, also reported to the Laurelhurst Blog, about 2 years ago, that he was awakened quite early in the morning recently to the sounds of calls of owls.
We were awakened at 4:30am with lots of calls coming from the forest at Talaris. Turned out it was two Barred Owls. How cool is that?!



To hear them go

here

for a

recording that my wife and I agreed were the same calls we heard as I didn't record the two Barred Owls.


Here is a post from this time last year, about Barred Owls, written by Larry Hubbell on his blog, Union Bay Watch. Larry is a long-time local photographer and birder. Here also is an in-depth article about Larry and his work.
Earlier this week I was attracted by the sound of an irate crow near the mouth of Arboretum Creek. As I crept closer to the commotion I spotted this owl. The sleepy predator was obviously the object of the corvid's disaffection.