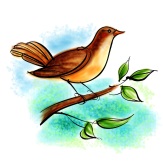 Miller Library, located in Laurelhurst at the UW Botanic Gardens (3501 NE 41st Street), is holding a story time on Saturday with the theme of "SpringTime" from 10:30-11:15am.

The information says:

Take a deep breath-spring has sprung! These three stories of springtime adventures in the garden are sure to bring a smile. After the stories, you're welcome to make a blossom picture in the program room.

Books to be read are:
FINDING SPRING by Karin Berger
DU IZ TAK? by Carson Ellis
MISS JASTER'S GARDEN by N.M. Bodecker

Story time is geared towards children ages 3 to 8 and celebrate gardens, plants and nature. All ages and their families are invited.