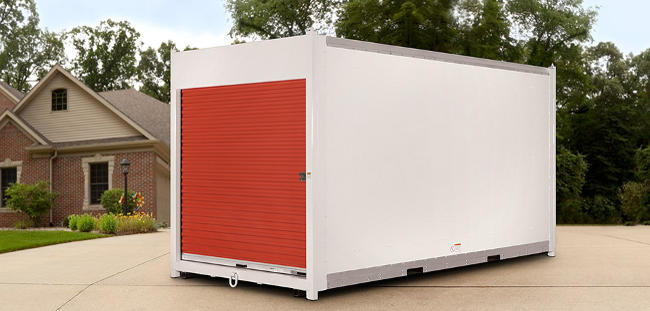 The Laurelhurst Blog has received many inquires about the policies of POD storage containers, found in front of homes or in driveways.
Neighbors said:
We are concerned about a POD in the neighborhood that is partially blocking oncoming traffic and is hard

to drive around when cars are parked on both sides of the street in the neighborhood. We believe it has been there for over 6 months. It would be great if the POD were removed after such a long time on the street and to provide better safety and visibility for drivers.
We have done some research on a POD that has been on our street taking up parking and sticking out in the roadway and learned that a storage unit can stay in the street up to 120 days if the person to whom the unit belongs has a street-use permit and that the permit can be renewed for more time with an increase in cost. How do we find out if the resident has a permit and for how long?
There's been a

PODS

container between NE 45th and NE 44th for months now - seems like at least six, although we believe longer. It is tough to drive around it when the street has a lot of cars.
We are wondering about how the POD process works. There have been several on the streets around us, one for seems like 8 months, blocking oncoming traffic and using up a lot of parking.
The Laurelhurst Blog contacted Seattle Department of Transportation (SDOT) regarding a particular pod one block off of NE 45th Street and SDOT verified that the POD was on the street past the permitted timeframe. The POD renter did have a permit.
The permit-holder

was issued a Simple Right of Way management permit that typically does not include scheduled inspections because there is no mobility impact to the right of way (as opposed to a Street Improvement/Utility Major Permits project such a large development construction project where a Traffic Control Plan is required when a lane of travel is impacted in the right of way).
The inspector for the area spoke with permit-holder about issue. The permit-holder indicated they intended to extend the permit, however when the inspector returned the container had been removed.
SDOT added that there is no cost for a permit, which can be

issued fo

r

30 days and extended to 120 days, i
n 10 day increments, with unlimited renewals

.
The Seattle City Code SMC15.04 states:
When residential dumpsters or storage containers are placed in the public right of way, a permit is required before delivery and placement. Be sure to discuss this with any third party involved in arranging for a dumpster or container. You will need a completed permit application as well as a site plan to apply for your permit. Your container must be in a legal parking space, either paid or unpaid, in front of your property. Be sure to consult with your container company to confirm the space needed for delivery.