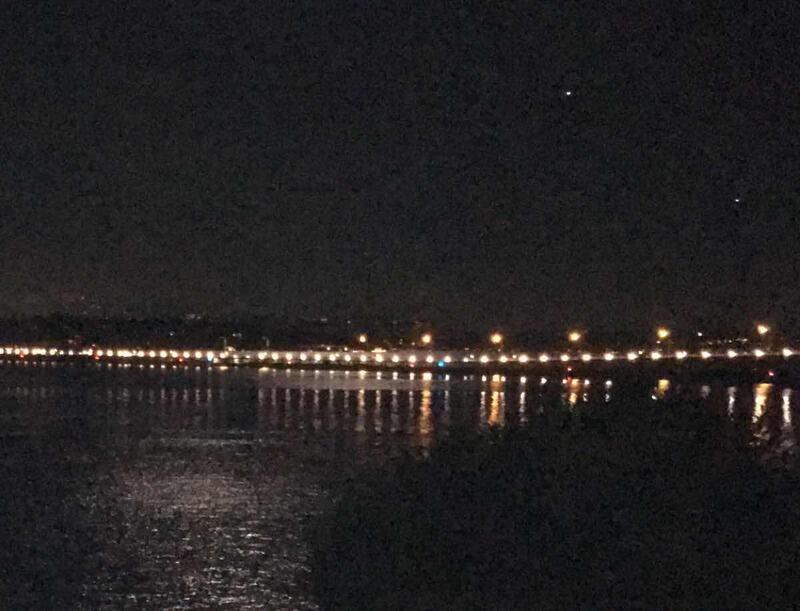 unaltered photo from Webster Point
looking at 520 bridge
This information was recently published in the

Laurelhurst Community Club

(LCC) newsletter:
Still Seeking to Dim Bright Bridge Lights
On November 29, at the request of LCC and a subcommittee of concerned neighbors, representative from WSDOT and the 46th Legislative District hosted a community meeting to discuss WSDOT's evaluation of the path lighting.
The group considered a matrix of options to solve the "unintended consequences" of the over lighting. The top four were:
Shroud the existing fixture to direct the lighting downward.

Apply shrouding to the exterior of the railing, capturing the spilled light from the existing fixtures.

Move the fixtures to the existing railing to direct the light back from the north to the south, and onto the path.

Change out the existing light fixtures and bulb type to different color and/or wattage that meets the federal standard.
No financial commitments or funding options were offered by WSDOT, but state officials promised to follow up with financial information for the elected officials before their legislative session begins in early 2017.
Several Laurelhurst residents put together
this presentation
of the lighting impacts and concerns, as well as WSDOT activity regarding the issue.
A neighbor who attended the meeting said that WSDOT "clearly expressed that they are interested in a solution, and are trying to evaluate options."
He added that WSDOT said that at the meeting,

they were looking to update neighbors and also get feedback on which solutions to pursue, and in which priority order.
Nei

ghbors who are concerned about this issue should contact the following people with their input:



Also SDOT recently provided this update regarding the
investigations into the expansion joints on the new floating bridge since the last Medina City Council Committee.
Mageba, the manufacturer of the expansion joint, was in Seattle in early November and visited the new floating bridge to complete preliminary evaluations of the expansion joints in order to update their proposal for potential noise reduction options. Based on these evaluations, Mageba is currently performing tests to verify that their current, proposed option will not interfere with the functionality of the joint.



WSDOT expects the following next steps:
To receive an updated proposal from Mageba in late-December to early January. WSDOT will review the updated proposal and will share this information at the next COW meeting.

To receive additional information from Mageba about the option used in Japan that was discussed at the

Nov. 1

COW meeting. If you are unfamiliar with this option, please feel free to look at our materials,

posted online

.

To schedule the next COW in late January or early February 2017; however, the meeting date will not be finalized until after we have received the updated proposal from Mageba..
Go
here
for information on the SR520 project.