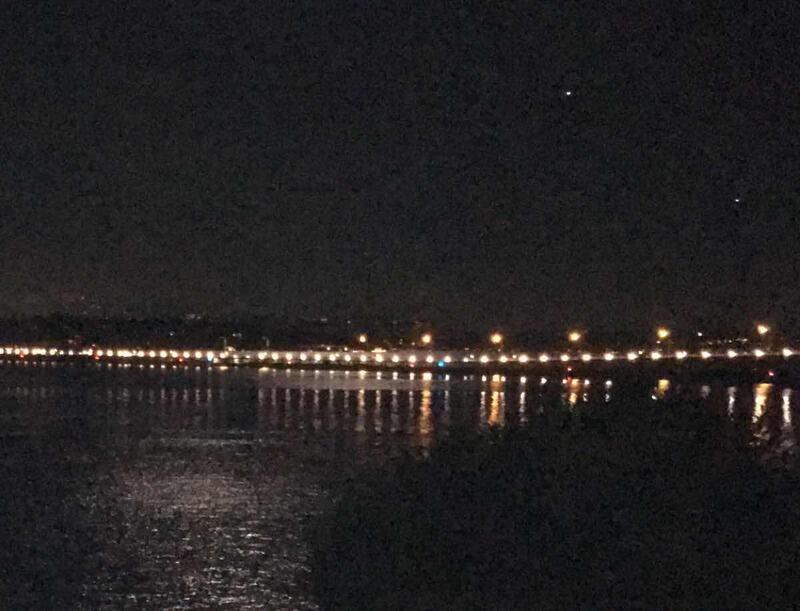 unaltered photo from Webster Point
looking at 520 bridge
Tomorrow from
5:30-6:30pm at the
Graham Visitor Center inside the Arboretum
, WSDOT is holding its monthly meeting to inform the public about the progress of the new 520 bridge.
There will be a presentation looking forward to the final year of construction as well as to the next phase of SR 520 construction, the Montlake Phase.
A Laurelhurst Community Club representative said that tomorrow's meeting will have a larger scope than other meetings in several areas:
The WABN (west Approach Bridge North ) out over Union Bay is currently being heavily constructed, and it will review what was done in 2016, and plan for its opening in late 2017, as well as providing an update on the South (WABS), the Montlake lid and land bridge.

One issue that should be noted to WSDOT

is that they should mock up the Shared Use Path lighting type

as the current system on the

Floating Bridge is not acceptable, because it has created adverse impacts from its spill light onto Lake Washington.

Annual update on the Montlake Phase of the bridge. They will discuss the status of retaining the Montlake Market and the Neighborhood Traffic Mgt Plan.

The timeline on the phase will be discussed.
Bryan Haworth, Montlake Community Club President said, as posted on their Blog:
I urge all concerned residents to turn out for this meeting because we are running out of time to have an impact on the design of this project.
WSDOT also indicates they still plan on taking the Montlake Boulevard Market and 76 gas station through purchase or by eminent domain so please speak up and let them know this is unacceptable and alternatives to this plan must be part of the discussion.
Let's keep up the fight and I hope to see you there!
A Laurelhurst resident attended the
recent Neighborhood special meeting
at the Center for Urban Horticulture, held by SDOT and S
tate elected officials from the 46th District regarding the impacts of the lighting from the 520 bridge, which not only affects neighbors, but also
the health of the migrating salmon and the ecosystem.
The neighbor provided these notes to the Laurelhurst Blog along with
this presentation
he put together:
November 29 Meeting attendees:
dozens of concerned neighbors

several representatives from WSDOT including the overall 520 bridge project lead (Julie Meredith)

The Secretary of Transportation

representatives of Cascade Bicycle Club

State Rep. Jessyn Farrell, Rep. Gerry Pollet, and Sen. David Frockt of our own 46th district
WSDOT presented their current findings, summarizing where we are. They clearly expressed that they are interested in a solution, and are trying to evaluate options.
They expressed that at present time, they were looking to update neighbors and also get feedback on which solutions to pursue, and in which priority order. A repeated request for a neighborhood representative to be involved in future evaluation was made; WSDOT said they'd take that under advisement and get back to us on that idea. Some neighbors expressed skepticism at the accuracy of some of the visuals WSDOT presented of the current lighting, as they didn't fully show the light pollution levels, and some photos actually had some lights that were not turned on as they currently are.
Providing clear prioritized feedback was rather difficult to do since no specific cost-of-solution data or budget constraint data was shared, so presumably their desire was to get desired feedback in the absence of relative cost and/or current feasibility.
The key options being considered viable at this time are:
1) Replacing the light fixtures altogether with other fixtures that ideally directs from the railing or a kickplate southward, rather than from the wall pointing north through the railings.
2) Adding some kind of shrouding to the existing light fixtures to direct the light down and onto the path rather than out, through the railing and over the water.
3) Adding some kind of opaque barrier to the railing to prevent light escaping.
4) Switching out the power supply entirely and moving from metal halide (3000+ lumen lights, more than twice as powerful as a car headlight each) to something less powerful.
Neighbors generally agreed with the above prioritization. Incremental funding to help fix the issue might be addressed by the legislature in January or February. Constituents who are concerned about this should write in and help provide input to their representatives. Some neighbors zeroed in on solution #2, assuming (perhaps wrongly?) that option #1 wasn't going to be feasible due to cost. Conversation afterward seemed to suggest that option #1 might actually be on the order of single-digit millions of dollars to implement, whereas option #2 was felt to be something that might be doable at perhaps one tenth that cost.
WSDOT stated that the design guidance they gave to the design/build contractor for the bridge stated that no more than 0.2 footcandles can be put onto the lake surface. WSDOT indicated that at least their own measurements taken from the water indicate they are under that limit, but this claim has not yet been independently verified, and some neighbors privately expressed skepticism that this measurement is accurate given the amount of reflection that can clearly be seen, especially on still nights. Neighbors also indicated that several fishery studies have shown harmful effects on salmon at as low as 0.009 footcandles. A WSDOT participant made a claim that light levels coming from the bridge are actually less than the prior bridge's light levels; this assertion was roundly rejected by neighbors in attendance as just not matching the reality they have experienced. Rep. Pollet indicated that the I-5 bridge overpass at Northgate (a current WSDOT project) does

have low-lighting levels that seem like a viable design.
A suggestion was made to turn off the lights to the path now, while solutions are being evaluated. WSDOT expressed a view that they have many constituents that enjoy the path today and Sen. Frockt indicated that turning off the lights now might make a proper long-term solution politically and/or legislatively more challenging
Neighbors who are concerned about this issue should contact the following people with their input:
Also
all lanes
and
ramps
between
Montlake Boulevard
and
92nd Avenue Northeast
on SR520 will be closed
from
11pm on
Friday through
5am on Monday.
The SR 520 bicycle and pedestrian path on the floating bridge will also be closed over the weekend.
During the highway closure crews plan to:
Begin removing the remaining portion of the old westbound SR 520 off-ramp to Lake Washington Boulevard that extends over SR 520.

If weather permits and as necessary, evaluate lane striping and restripe lanes.

Pour new sections of roadway deck for the permanent WABN structure.

Complete various maintenance projects on the eastside of Lake Washington.
Nighttime construction lights to illuminate the work site.

Trucks delivering concrete for roadway-deck pouring.

Construction vehicles moving in and out of the old-MOHAI site for concrete delivery.

Noise from construction activities as crews use a concrete "muncher" to remove the old off-ramp. Crews may also use a hoe ram to remove the old off-ramp. Hoe ram activity will end by

10 p.m.

each day.
A temporary noise variance will be in place to complete this work. Crews will follow all city of Seattle noise requirements and WSDOT inspectors will be on site to verify that construction activities comply with the city of Seattle noise code.
Closure map:
These closures are weather dependent and subject to change. We will keep you updated and provide more details regarding the closures through these emails, our
SR 520 Orange Page
and our
SR 520 twitter feed
.