The City is offering to help fund s
pecial painted crosswalks, a great way to represent a neighborhood and showcase a community's unique culture and history through the Neighborhood Matching Fund, which provides the financial support for the project.
Interested neighbors can r
eview the Community Crosswalks Guidelines below for how to get started. .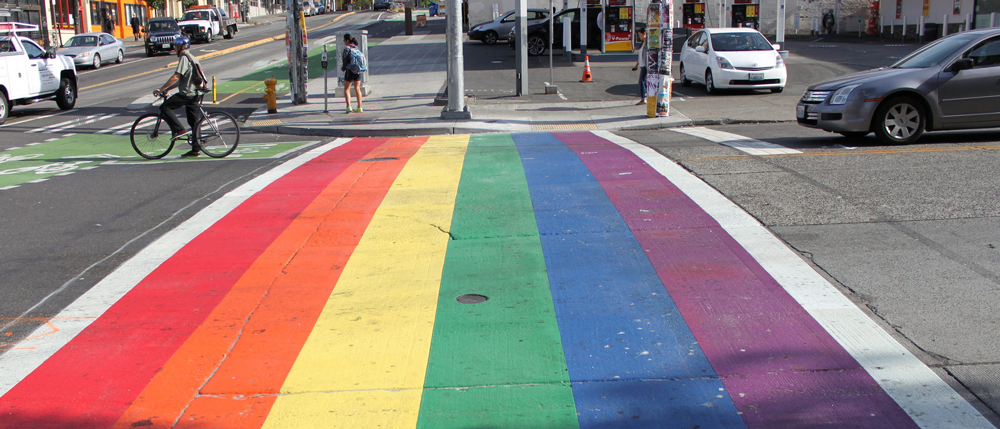 Community Crosswalks Guidelines
When evaluating locations for potential special crosswalks and planning designs, please follow these guidelines.
Locations

The crosswalk must be at a location where there is already a marked crosswalk, and where a vehicle is already required to stop, either due to a stop sign or traffic signal.

To the extent possible, the crosswalk should be on the lower traffic volume, shorter width streets at intersections. This will help extend the life of markings, and limit overall square footage, and bring cost down.

Pavement condition

Pavement must be in good condition to help the colored material bond well.

Design

The crosswalk design must include the two white horizontal markings with standard design and reflectivity to mark the edges of the crosswalk and ensure it meets minimum standards.

Designs must use only horizontal or vertical stripes to make sure people driving, walking, and biking know these are official crosswalks and designated places for people to cross. Consistency with this style will also keep costs for a community down.

Colors for the ladder markings would be at the option of the applicant with approval from the Seattle Department of Transportation (SDOT), through the Neighborhood Matching Fund process. SDOT's vendor must be able to order and supply colors, so options may be limited.

No text or logos.

No octagons, triangles, or other symbols that might be confused with traffic control devices or legends.

Costs

Costs for a typical crosswalk are $25/square foot, depending on length, design, and whether traffic will need to be redirected or stopped during installation.

Maintenance

Depending on the amount of vehicle traffic on the street, painted crosswalks can last 3-5 years.

Community groups are responsible for all costs associated with maintenance.
All special painted crosswalks need to be approved and installed by the Seattle Department of Transportation (SDOT) to make sure they're safe, reflective of community values, and able to be maintained.
How do I apply to the Neighborhood Matching Fund?
The
Neighborhood Matching Fund
(NMF) awards matching funds for projects initiated, planned, and implemented by community members with the goal of building stronger and healthier neighborhoods through community involvement and engagement. Every award is matched by a neighborhood's contribution of volunteerism, donated materials, in-kind professional services, or cash.
The
Small and Simple Projects Fund
provides up to $25,000 in matching funds. All submitted applications are reviewed based on the rating criteria in the NMF funding guidelines.
Since SDOT actually installs the crosswalk, applicants should have a strong community involvement strategy. Some ideas include:
Outreach activities to the neighborhood which could include flyers, social media, etc.

Community meetings to discuss designs and colors and select the final design.

Community celebration event when the crosswalks are completed.