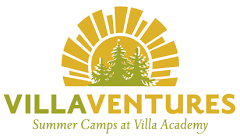 Villa Academy
(5001 NE 50th Street) is offering over 50
weeklong morning and afternoon camps,
called Villa Ventures, for children ages 4-14.
Camps
include visual and performing arts, sports, science, as well as special interest topics such as animation and cooking using ingredients from the school garden.
Here
is a list of camps:
Roaring Rockets
Basketball
Cheerleading
Brick Animation
Clay Animation
Mini-Hawk Sports
Star Wars
Tie-Dye Madness
Rocking Gizmos
Craft Zone
Drama
Hogwarts Academy
Party Time
Soccer
Super Heroes
Golf
Just Desserts
Seaside Arts Camp
Candleshop
Lacrosse
Narrative Writing Skills
Pirates Ahoy!
Old School Summer Fun
Quidditch
Simple Suppers
Splish Splash Fun
Go
here
for full details on all camps offered.
The website
information
says:
Summer at Villa is an unforgettable adventure where campers explore their interests, discover their passions, make friends, build self-confidence, and have fun!