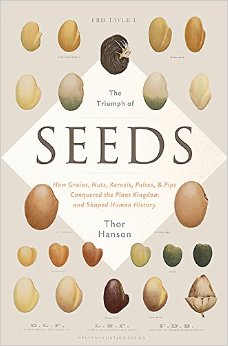 UW Botanic Gardens' Center for Urban Horticulture
(3501 NE 41st Street) is having a free class tonight from

6:30-7:30pm

called "
The Triumph Of Seeds
."
The
information
says:
Seeds surround us. From our morning coffee to the cotton in our clothes, the spices in our foods, and the cosmetics we use, seeds are part of nearly every aspect of our lives. They give us food and fuels, intoxicants and poisons, oils, dyes, fibers, and spices. Without seeds there would be no bread, rice, beans, corn, or nuts. "They are quite literally the staff of life," says award-winning conservation biologist Thor Hanson, "the basis of diets, economies, and lifestyles around the globe."
In his new book, THE TRIUMPH OF SEEDS: How Grains, Nuts, Kernels, Pulses, & Pips Conquered the Plant Kingdom and Shaped Human History (Basic Books; March 24, 2015), Hanson turns his eye to the ubiquitous seed plants that dominate landscapes and define entire ecosystems. Following the winding path that seeds have paved through evolution, natural history, and human culture, he examines the traits and habits that have allowed seeds and the plants that bear them to be so successful, and to so thoroughly transform our planet.
Read the Miller Library's Review Here!




Books will be available for purchase.