Here is a post about upcoming changes to NE Blakely Street as reported by the Ravenna Blog
:
Road safety improvements coming to NE Blakeley Street / Union Bay Place NE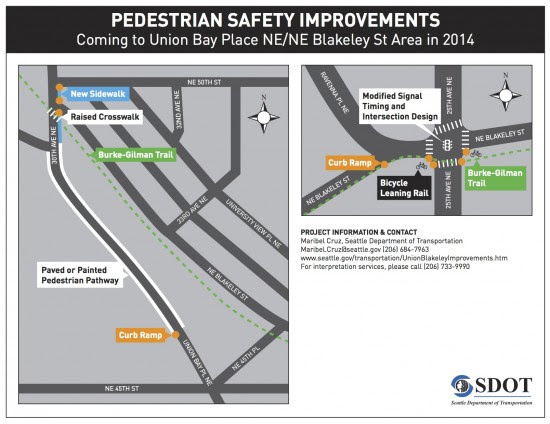 The Seattle Department of Transportation (SDOT) is in the process of designing the following
safety improvements to the Union Bay Place NE/NE Blakeley Street area
underway this month:
25th Ave NE & NE Blakeley Street: Modified signal timing and intersection design. New bicycle leaning rails* (allow cyclists to wait for light change without dismounting, placing one foot on the rail).
30th Ave NE & the Burke-Gilman Trail: Raised pedestrian crosswalk and repaired sidewalks approaching this crosswalk along 30th Ave NE between NE 50th Street and Union Bay Place NE.
Union Bay Place NE between NE 45th St & 30th Ave NE: New paved and painted pedestrian pathway along both sides.
This work is funded by mitigation from the University Village and the Village QFC as well as Pedestrian Master Plan improvements on page 17 of this SDOT
analysis of QFC's 2012 land use application (208 KB PDF)
to expand the store and build a parking garage.
The pedestrian improvements are part of SDOT's
Sidewalk Development Program
and funded by the voter-approved
Bridging the Gap
levy. The Program's 2014 projects include these new sidewalk connections:
For questions contact Maribel Cruz with SDOT at
206-684-7963
or
maribel.cruz@seattle.gov
.