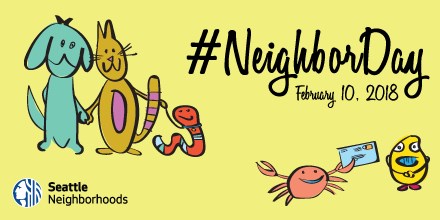 We invite all Seattle residents to celebrate

Neighbor Day

by indulging in random acts of kindness. It is

a special day set aside to reach out to neighbors, make new friends, and express thanks to those who help make your neighborhood a great place to live.
Some ideas include doing

something nice for a neighbor, organizing a neighborhood potluck

, open house, or work party, joining

in a neighborhood service project to clean up a park, plant trees, organizing a neighborhood cleanup, holding a

bake sale for charity or to raise money for a neighborhood project, sharing

a "great neighbor" story with #NeighborDay.
Residents can stop by their neighborhood fire station to meet firefighters, tour the station and learn about firefighting equipment.
Station 38
(4004 NE 55th Street), serving Laurelhurst, and surrounding neighborhoods, will be open and welcoming visitors.
A neighbor said "

It's a great chance to stop by for a visit and a chance to meet the firefighters in your neighborhood."
"Visitors should be aware that firefighters may need to respond to an emergency and close the station to visitors during that time. Firefighters will return after the alarm and re-open the station," the website says.
For more information go here.