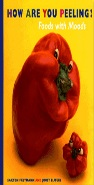 Miller Library
, located in Laurelhurst at the UW Botanic Gardens (3501 NE 41st Street) is holding a story time on Saturday with the theme of "Year Round Book Story Program" from 10:30-11:15am.
The
information
s

ays:
How

are you feeling? This time, all our books are about feelings-having them, sharing them, describing them.
After the stories, make a special card for someone you love.
Books to be read are
:
HOW ARE YOU PEELING? by Saxton Freymann
A TREE FOR EMMY by Mary Ann Rodman
THE CURIOUS GARDEN by Peter Brown
SHARING OUR WORLD by Ian Reid and others
Storytime is geared towards children ages 3 to 8. All ages and their families are welcome.