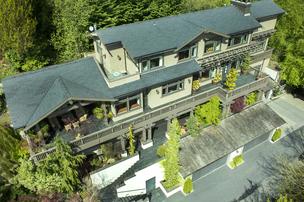 The president of Windermere, OB Jacobi, recently put his on the market for $3.2 million. The house is long and narrow house and is just a few doors down from the Beach Club on Laurelcrest Lane.
It has many interesting features - mostly made of concrete, built right up against the hillside to maximize the space and fit onto the narrow lane, directly across the street from the beachfront homes, to mention a few. OB's father and family reside in a beachfront property just adjacent.
Kim Dales
, an agent with Windermere, told the Blog Staff that "it is not waterfront, but feels like it and of course you can just walk down the lane to the Beach Club. The home is custom built, well maintained, and is original owner."
Business Journals recently posted this
information:
Patti Payne's Cool Pads: OB Jacobi, president of Windermere Realty, lists home for $3.25 million
One of realty's local royalty, OB Jacobi, president of Windermere Realty, is selling his 6,100-square-foot home in Laurelhurst. It just came on the market for $3.25 million.
Jacobi

built it 11 years ago on Laurelhurst Lane, a private lane and now is moving a short distance away, downsizing to a neighborhood nearby.
Jacobi

lived on this same lane in Laurelhurst when he was 10 years old. Years later, when he was 28, and when a property became available, he chose to build right across the street from his father.
That property he bought had an old house dating back to the 1920s which had become dilapidated.

Jacobi

chose to take it down and build a large stately Craftsman-style home with concrete and steel "bones," as he describes it, steady as a rock.
"There are 300 cubic yards of concrete in that house," he says. The floors are about five inches thick and there is radiant heat under the flooring.
On the inside you wouldn't know it's steel and concrete, as it is designer-done, with an open floor plan and distinctive contemporary finishes.
Located across the street from Lake Washington, the home has a long footprint so that almost every room has a stunning water view.
"The whole thing is oriented to the lake,"

Jacobi

says.
Honeyed tones and earthy textures run throughout the more than three stories of living space which includes open living and dining areas and an inviting chef's kitchen with array of sophisticated stainless appliances. Next to the kitchen is a luxurious outdoor living room with views of Lake Washington and Mt. Rainier.
There are four bedrooms in the home. The master suite, with its walk-in closets, has a spa bath and fireplace. There are five wood burning fireplaces throughout the home, a game room, theater, two offices and a wine cellar with a Mediterranean feel.
Jacobi

's favorite things about the home?
"It's on a lane that is super safe for kids. No cars drive by. It is four doors down from the beach club where my kids go all the time," he says.
He loves that it is a great house for entertaining, with a special covered deck and Tiki bar, and a chandelier out there that

Jacobi

calls very special.
"In the Shrek movie where he gets married, there is a wedding scene at the end, with chandeliers. I asked my iron worker if he would make me one just like it. So we actually have the Shrek chandelier lighting the covered deck. It's very, very cool," he says.
(photo courtesy of Puget Sound Business Journals

)