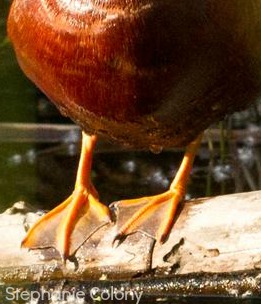 Connie Sidles,
local neighborhood bird watcher , who maintains a
blog
documenting the many types of birds, including beautiful pictures, at the nearby
Union Bay Natural Area,
also known as the Montlake Fill as well as

author of Fill of Joy and Tales from the Montlake Fill is having a lecture on Saturday from 10-11:30am at the Center for Urban Horticulture (3501 NE 41st Street) called "Birds' Feet."
This class will show you how birds use their feet to survive. Fall is the season in which we have the greatest bird species diversity in Seattle, and is a great time to see a wide variety of foot adaptations.
Bird feet? When you think about it, all feet are adapted for each species's lifestyles - including ours. I could not hang upside-down by my toes, for example, to gather my morning breakfast as chickadees and bushtits do. How would I drink my coffee?
One way to observe birds in the field is to pay attention to what they are doing, rather than trying to identify their species. It's true that if you can name the species of a bird you see in the wild, and if you have studied your field guides, the name alone will be a shorthand way to call to mind the natural history of that species. But you can also understand at least a part of each bird's natural history by simply observing it as it performs its tasks of daily living.
Feet are a big factor that allows birds to survive but also limits how they do so. In some ways, studying one aspect of a bird's anatomical adaptations - like feet - brings us closer to that bird's life. And feet are just plain fun, or funny, as anyone who has studied how cormorants try to maneuver their big feet around the too-small branch of a cottonwood tree can attest.
Tickets are $25 and you can register at
UWBotanic Gardens
.