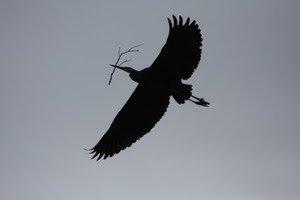 The Seattle Audubon Society, located in Northeast Seattle, is holding a class tomorrow called "Bats! For Birders" from 7-8:30pm, at the Phinney Neighborhood Center, followed by a Greenlake fieldtrip on Thursday at 9pm.
The information says:
This class, taught by Dan Hannafious, founding board member of Bats Northwest and naturalist for the Pacific Science Center, will provide a glimpse into the fascinating world of bats, our unfeathered friends.
This evening class will include a fact-filled lecture followed by a night walk at Greenlake to observe and listen to local bats during their nighttime feeding forays.
The presentation will offer a broad overview to the bat world, and will provide information on our regional bat species. The class will include discussions on conservation concerns, strategies for bat exclusion from homes, ways to attract bats to the neighborhood, and options for bat houses.
Dan is a local naturalist and environmental educator who has been providing community Bat Chats and Bat Walks for over 15 years.
The cost is $35 for members and $45 for non-members. Go
here
for more information and to register..
Photo by Ken Hurley