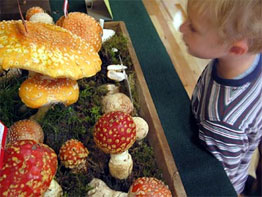 The Annual Wild Mushroom Show of the Puget Sound Mycological Society is being held tomorrow

from 12-7pm and Sunday 10-5 at the

Mountaineers Seattle Program Center (7700 Sand Point Way NE).
Over 200 varieties of wild mushrooms will be displayed, identified, and classified as edible, poisonous, or valueless as food.
Visitors are welcome to bring in entire mushroom, including underground parts for experts to identify. Be sure to collect the entire mushroom, including underground parts.
Exhibits will include feel and smell display and mushroom tastings prepared by Seattle's chefs. Also on display will will be photography displays as well as a selection of items for sale such as mushroom field guides, cookbooks, t-shirts, and scientific materials for the serious mycologist.
Visitors can learn about PSMS and obtain information about classes, field trips and other opportunities.
For more information, go
here.
(photo courtesy of website)